This guide explores the different phone options on your GreenLink Softphone.

Softphone Options
Account Settings: This allows you to view the current accounts linked to your softphone, connect your softphone to outlook and view the extension information.
Preferences: This option allows you to view and modify the application settings, alerts & sounds, devices, shortcut keys, directory, calls and advance settings.
Sign Out: This will sign you out of the softphone.
Reset: This will remove any custom settings of your account and the softphone.
Exit: This will close out the application without logging you off from the softphone.
View Options
The options here will allow you to modify your softphone's appearance, and how much you wish to see based on the options given. The messages and video options are to manage chatting and video calling with your GreenLink softphone.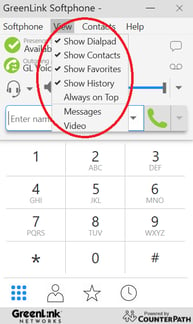 Show Dial Pad
Show Contacts
Show Favorites
Show History
Always On Top
Messages
Video
Contacts Options
The options here will allow adding a new contact group, single contact, import & export of contacts. This menu also contains options to manage how much you wish to see from other GreenLink softphone users, for example their Status on the phone. This option also allows for view customization by groups, names and status.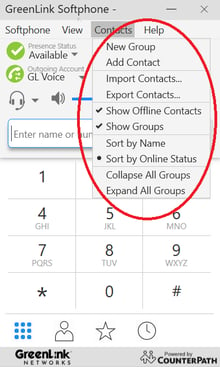 New Group
Add Contact
Import Contacts
Export Contacts
Show Offline Contacts
Show Groups
Sort By Name
Sort By Online Status
Collapse All Groups
Expand All Groups
Help Options
The options in this menu allow you to troubleshoot devices, audio and video connected to the softphone. If there are any updates available for your softphone you can push them to the phone by choosing the "check for updates" option. The software version and other app details can also be found here on the "About" option.

Troubleshooting
Check For Updates
About