Understanding how call flows work based on your business needs.
A call flow is a road map to how calls will be handled from the moment they enter the phone system to the end of the call. Call flows can be used to handle even the most complex call scenarios and enable businesses to offer great customer care.
The first aspect to understand when setting up a call flow is what are your needs when receiving calls at your business.
Do you want calls to be answered by a person in reception?
Do you want calls to be sent to a voicemail when the business is closed?
Are there other departments with extensions on your business that you want connected to your main DID?
Should calls be routed directly to extensions or should all calls go through the reception first?
What options will there be available for callers during holidays?
After answering this questions, you will have an idea of what the call flow will be for your business. Below are some example illustrations to better understand how to put the above questions in practice:
Simple Call Flow

Advanced Call Flow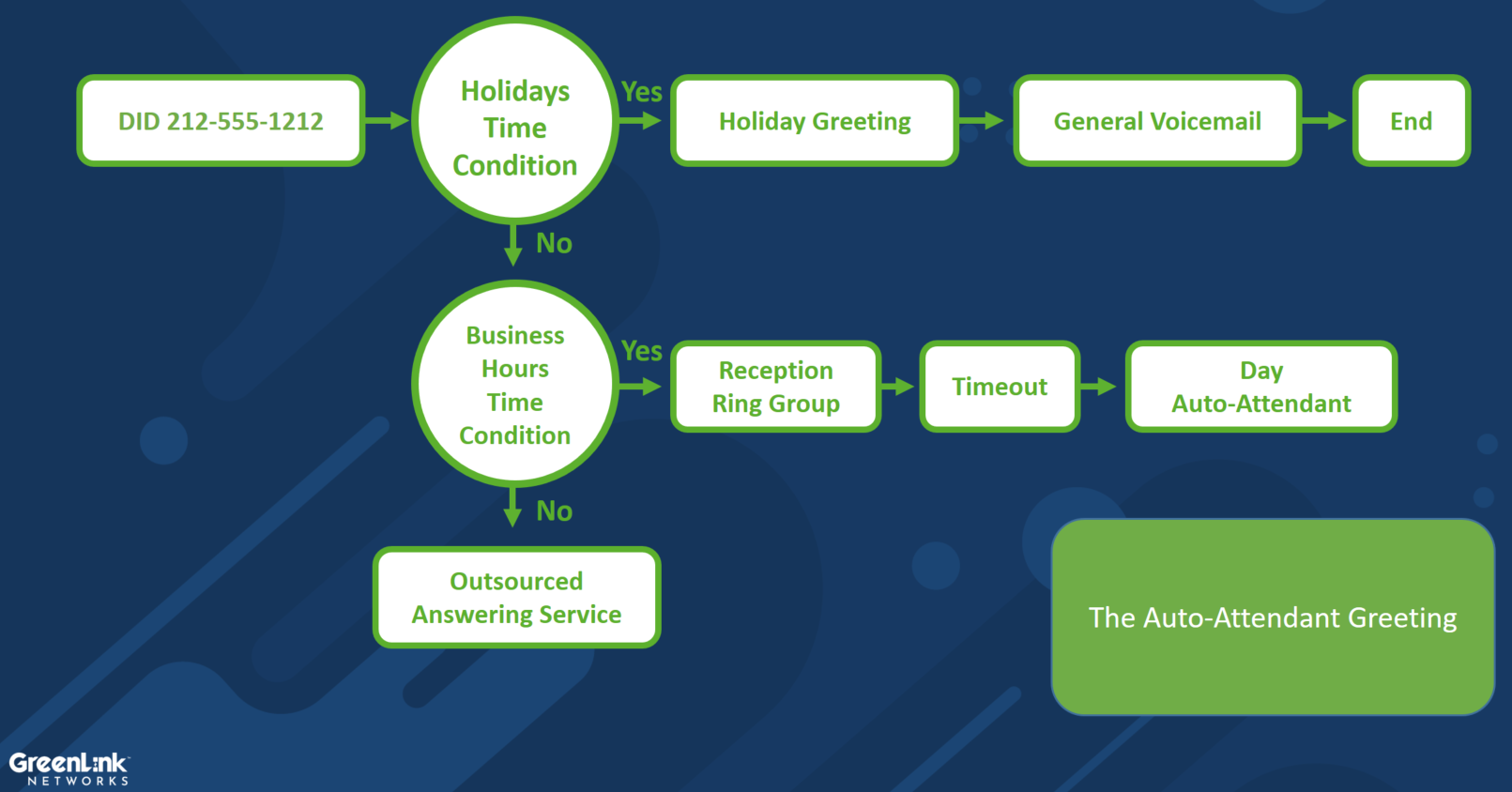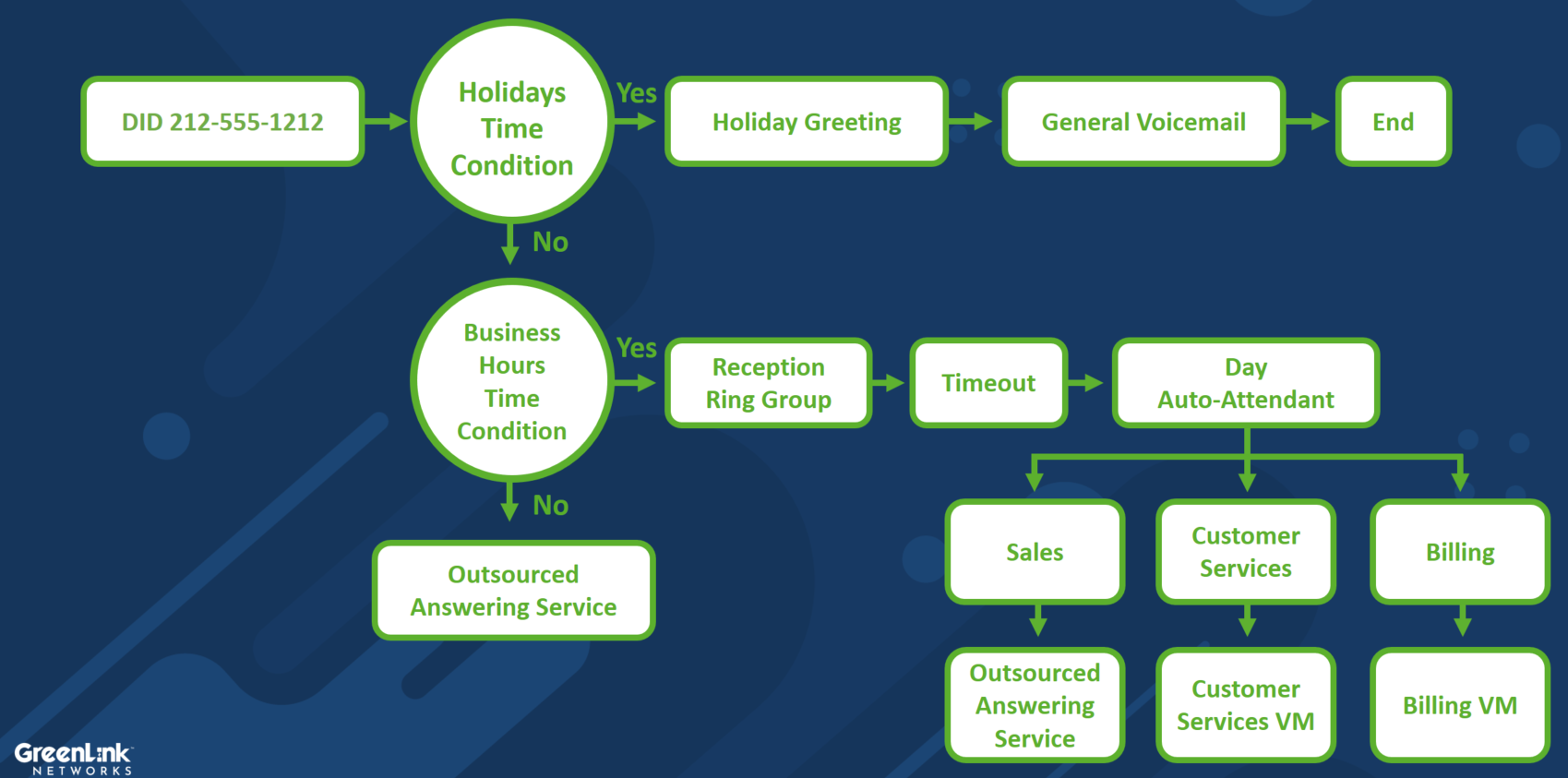 Call Flow Best Practices
Once you have decided which call flow best fits your business needs then you would proceed to set up the call flow. This involves completing several steps on the Customer Portal.
As a rule of thumb, all call flows start with the phone number, followed by any calendar (holiday) or weekly (business hours) time conditions then the rest.
In preparation for the initial set up of you call flow you will need to have the following items ready:
DID Phone Number
To check if your DID number has been assigned to your account and is available go to the Customer Portal/PBX Settings/Phone Numbers DID Tab/click on "Select a DID".
If you see the DID number you can continue with the set up, if not reach out to your partner for support and check if the porting team has completed the process.
Auto-Attendant or IVR
The Auto-Attendant is essentially a virtual assistant that manages your calls based on your setup.
Components or destinations for the auto-attendant need to be built in order for them to be available as an option. These include:
Greetings (media file)
Announcements (media file)
Ring Groups for Queues
Voicemail Boxes
Greeting Options:
Have the system call you to record your Greeting.
Use a company like AmazingVoice.com to record greetings professionally.
Call our Greeting Voicemail.
Media Files
A sound file that can be used either as a voicemail greeting or a greeting that can be used in an auto-attendant or part of a workflow.
Customers might choose a default auto attendant media file provided by GreenLink or they can supply their own.
Ring Groups
A Ring Group is feature in the system used when the admin wants to send the call to a group of individuals.
Time Conditions
Time Conditions are part of the setting that determines where the calls flow to in your business and when. Time conditions will be impacted by your set business hours, and what happens during that time when calls come in. It also applies to weekends, holiday's and any other special circumstance that will imply a change on the normal hours of operation for your business and where calls are routed.
As a standard practice always set CALENDAR conditions ahead of weekly conditions.
Example: When callers dial 212-555-1212 you might want to check for "Emergency Closures" (calendar), and Holidays (calendar) before checking for business hours (weekly).
Queues
Similar to a Ring Group but more advanced. This determine how the calls will flow in the DID as they come, to which extensions they will be sent and the order in which this will happen. The "Queue" option is commonly used on businesses with high call volumes and multiple branches to maximize efficiency and offer a better experience for the caller.